The custom threshold is a newly added feature in Honeycomb. This allows you to set your own customized frequency-dependent velocity thresholds. This is helpful when you want to trigger exceedances not already covered by popular guideline standards. This is useful when you'd like to deviate from the most commonly used guidelines and input your own thresholds according to your needs.
Figure 1 shows you where you can locate this feature in Honeycomb.
Figure 2 shows you how to set up your customizable thresholds.
Please note: DIN 4150-2 and SBR-B 2002 do not use a threshold line.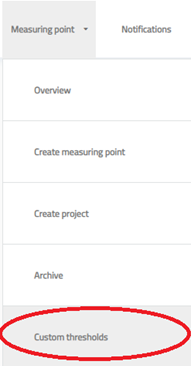 The custom threshold in the measuring point menu

The screen to set up custom thresholds